STO43: 5 Steps to Creating a Winning Lead Magnet


Click here to subscribe to the 'Smart Time Online Podcast' in iTunes
If you do not yet have a lead magnet in place in your online business, this podcast episode may very well change your life. A lead magnet is something you offer of high perceived (and actual) value in exchange for a visitors information, typically a name and email address.
It is the first step in converting a visitor into a customer – all while establishing extremely high goodwill, trust and rapport with those who sign up to get it. It is the foundation to creating a highly responsive email list, which is undeniably one of the most profitable assets you could possible have.
The catch is that a lot of solopreneurs and small business owners really have no clue how to create a good lead magnet that magnetically attracts prospects and leads into their funnel. Because of this, one may end up either giving up and settling on the "free newsletter" route, or end up publishing a "not-so-good" lead magnet and then wonder why it's not pulling in subscribers and leads.
In this episode, I'll reveal a 5-step outline that you can use anytime you create a lead magnet; one that can grow your income from the moment you publish it.
IN THIS EPISODE, YOU'LL DISCOVER:
The 5-step outline that I use in my own business to build highly profitable email lists that are full of people who like and trust you.
Why step #2 is often overlooked, resulting in lost income and happy subscribers.
How offering a _____ ______ will cement your "goodwill factor" in the marketplace, setting you out on the right foot among your new subscribers.
Why specificity matters and why you're probably missing this point outright.
Why (and how) having one lead magnet can be a very good thing for your business.
Why stating the value of your lead magnet is critical for supporting perceived value.
The difference between a $300 value and a $37 value (and which way you should lean).
The ONE thing you should make sure is in place AFTER someone submits their name and email to receive your lead magnet (it has nothing to do with emails).
ACTION STEPS:
If you do not yet have a lead magnet, CREATE ONE as soon as you can!
If you already have a lead magnet, use this 5-step outline as a checklist and go back to improve on yours where needed.
Consider creating more than one lead magnet to serve the specific needs of your website visitor segments. This will improve your list growth rate without any increase in traffic.
Not having a lot of traffic is not a good excuse for not having a great lead magnet and accompanying process in place. Set it up now so you don't have to later.
Download my 5-step outline PDF below and print it out for easy reference. Don't
Would you like some 1-on-1 help? Click here
BONUS STEP 6: 
I honestly did not include this step in the podcast episode because I just didn't think about it until now. But it's a very important step – and it is to install a lead magnet and opt-in plugin on your website that makes it EASY to serve lead magnets. The one that I use on this site, which is my personal favorite and the one I recommend the most, is called Optin Monster.
Optin Monster makes it SUPER EASY to install timed lead manget pop-ups on your WordPress site, sidebar forms, slide-in forms and even on-click popups like the one on the upper right corner of my sidebar. You can even set up what's called an exit-intent popup, which only displays if a visitors cursor breaks the plane of your site (when they hover the back button, etc.).
I listened to a recent interview with the creator of Optin Monster and he mentioned that they were considering switching to a paid subscription model for the plugin. Although this isn't for sure and he could've just been "thinking out loud", I'd grab it now while it's still a non-subscription based model. It's not the cheapest plugin, but you get what you pay for and I honestly believe they could charge more for what it does. Check it out here.
RESOURCES AND LINKS MENTIONED IN THIS EPISODE:
Optin Monster – what I consider to be the best lead generation WordPress plugin on the market today.
GET YOUR 5-STEP LEAD MAGNET CREATION OUTLINE PDF (FREE):
Want the perfect companion for creating winning lead magnets? This is it!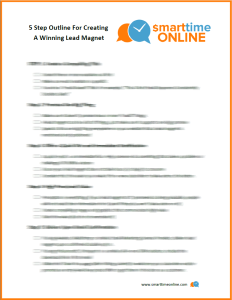 SUBSCRIBE TO THE PODCAST:
To subscribe to the Smart Time Online Podcast, use the link below:
IF YOU ENJOYED THIS EPISODE… 
PLEASE share it! It's easy… just use any of the 'SHARE' buttons below! Have a question about this episode? Leave a comment below and let's chat!