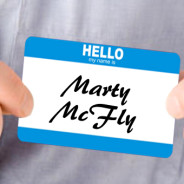 Rejoice! You can now use whatever name you'd like to on Google Plus – be it alias, company or brand name. In their recent policy shift announcement, Google apologized for the bad experience some users have had with their names policy: "When we launched Google+ over three years ago, we had a lot of restrictions on what name you could use on your profile. This helped create a community made up of real people, but it also excluded a number of people who wanted to be part of it without using their real names. Over the years, as...
read more
If you only  watch one video today, make it The Slomo Video. To change your perspective on life, click play now:
read more
Picture this: You're backstage, standing in a dark corner with your eyes closed. Your palms are sweaty and your heart is pounding as you hop up and down with anxious excitement. It's exactly 09:59 a.m. and in less than sixty seconds, you'll be stepping in front of the largest crowd you've ever spoken to. Thoughts riddle your mind: Will they like me? Is my speech good enough? Do I even remember my speech? Did I prepare enough? What if the sound system sucks? Around the 30 second mark, you gently pat the cold sweat from...
read more