STO 3: Pat Flynn Talks Online Business Tools & Habits for Success

There are only a few people who I know in the entire world who can connect as authentically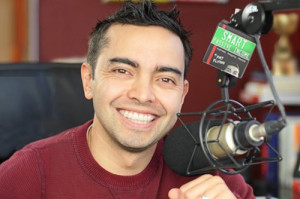 and unselfishly with others as Pat Flynn does. He is truly an inspiration for not only how to be authentic and real, but for turning the internet marketing world upside down and shaking it!
He got started when a lot of the "Guru's" were in their prime – claiming million dollar launches every Monday and coming up with cheesy nicknames for themselves.
As the "guru's" faded into their corners (some of them going broke, some of them enjoying their riches), Pat Flynn started carving out what has become the standard relationship model for many people after him.
He has influenced influencers, and he has crawled into the trenches to pull up the weak, weary and hungry.
Once an architect with dreams of designing brick-and-mortar structures, Pat has transitioned seamlessly into becoming the architect of a VERY popular and fast growing digital brand, Smart Passive Income. On his website, Pat shares his journey through every step he makes online, so that others may learn from both his successes and his failures.
Today, you'll hear about some of the tools and resources that he uses in his business, as well as some very good productivity suggestions that have helped his internet business grow into what it has become.
One thing: I want to apologize for sounding like Speedy Gonzalez while introducing Pat in this episode… it sounds like I'm on speed or something (don't worry, I'm not).
After about 10-15 seconds, I think I subconsciously realized it and slowed it down a bit. I'm still getting used to this whole podcasting thing.

IN THIS EPISODE, YOU'LL DISCOVER:
 The ONE habit that Pat attributes most to his success: ___________.
The 3 productivity tools that Pat finds most useful for business online
Why _________ systems can either make or break your business growth
The ONE action you should take next to better leverage your time online
Why Pat FIRED his Virtual Assistants and hired a team "in house"
Pat's BIG plan for 2014…
ACTION STEPS:
Identify one or two habits that have contributed to your most productive work and create systems and procedures that integrate those habits every single day.
Seek out small wins. If you have a big project, chunk it down and create attainable small wins.
If you do not already have a team implemented in your business, consider creating a plan to implement one.
Seek a coach, mentor or partner who can help you stay focused on your business goals
Write down all of the things that happen in your business and identify what you like doing, dislike doing, and cant do. Categorize and delegate the things you either dislike doing or can't do, and focus on the things you like doing (see '3 lists to freedom' link below).
Like some help? Click here
RESOURCES AND LINKS MENTIONED IN THIS EPISODE:
SUBSCRIBE TO THE PODCAST:
To subscribe to the Smart Time Online Podcast, use the link below:
IF YOU ENJOYED THIS EPISODE…
PLEASE share it! It's easy… just use any of the 'SHARE' buttons below! Have a question about this episode? Leave a comment below and let's chat!
GET YOUR OPTIMIZATION ACTION PLAN (FREE):
Want to get unstuck and grow your business to the next level and beyond?
Enter your name & email below: